The City of Tampere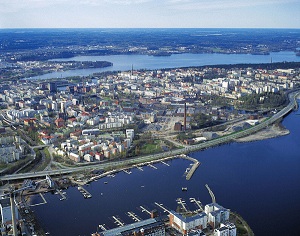 Tampere is the third biggest city in Finland and also the largest inland centre in the Nordic countries, located in southern Finland some 175 km north of our capital, Helsinki. Currently there are over 213,000 inhabitants in Tampere. Most people in Tampere speak Finnish but there is also a little group of people who use daily Swedish, the other official language in Finland. In addition, at least all young people in Finland speak some English.
From History to This Day
Tampere was founded wedding as a market place on the banks of the Tammerkoski channel in 1775. In the 19th century Tampere became a major market place and also the first and biggest industrial centre in Finland. Nowadays, textile and metal industries have been largely replaced by information technology and telecommunications. Tampere is also one of the three most rapidly developing regions in Finland. Furthermore, in recent years Tampere has repeatedly been the most attractive city among Finns who plan on moving. In 2008, the City of Tampere also came first in an image survey comparing the largest cities in Finland.
The Nature and Climate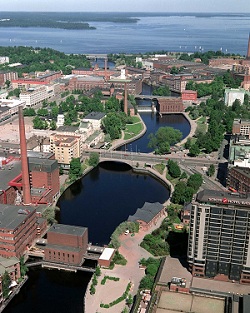 Finland, including Tampere as well, is very well known of its clean and unique nature with lots of forests and lakes. In Tampere area there are over 200 lakes and ponds along with several nature reserves. Tampere city centre is also surrounded by two big lakes, Pyhäjärvi and Näsijärvi, and impressive ridge scenery with Tammerkoski rapids running through the city. The Tammerkoski rapids scenery is also nominated one of the Finnish national landscapes. The climate in Tampere is mostly continental, and the differences between the temperatures in winter and summer time are huge. July is usually the hottest month in a year. The highest temperature measured in July 2010 in Tampere was +33 degrees. Moreover, Finland's nightless summer nights are something special to experience.
The Sights of Tampere

Tampere offers a lot to do and see for visitors. The main tourist attraction is the Särkänniemi amusement park with the landmark Näsinneula tower. Also Viikinsaari island, Pispala and Pyynikki areas are worth to visit, just to name a few. On GoTampere website there are more sights and happenings to discover.
Sports
Tampere is also very active sports city while icehockey and football are the two most popular sports. Furthermore, Tampere can be considered as a futsal capital of Finland mostly because Tampere was one of the first cities that really started the futsal-era in Finland. The most successful team of all times in Finland, Ilves FS, also comes from Tampere.