Welcome Address by EUSA President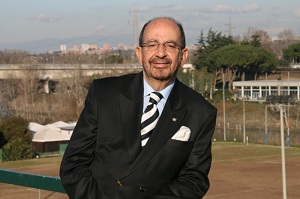 Dear athletes, officials and guests,
I am honoured to welcome you to the VIII European Universities Futsal Championship.
On behalf of EUSA, I would like to thank the Organising Committee for what has been done for the organisation of this important event. I am glad to state once again that our Championships have aroused large interest in the European University Movement. This success of our events, in terms of participation and overall organisation is due to the devotion of the Organising Committees and local Authorities which has been giving their valuable time to coordinate the running of this Championship.
To all the persons involved in this event, I wish all the best.
EUSA activities are only possible due to the immense level of support and encouragement we constantly receive from our National University Sport Associations, from the huge work carried out by our Secretariat and our staff. I am sure that our new IT system has strongly simplified the enrolment procedures both for the participating teams and Organising Committees.
Last, but surely not least, I would like to acknowledge all the athletes taking part in our events. I hope you will enjoy this Championship and that you will compete for the best placing bringing with you the Olympics spirit.
I hope you will always take with you this spirit which I consider fundamental for the wellness of the University Sport.
Welcome to EUC Futsal 2011!
-Mr Alberto Gualtieri, EUSA President